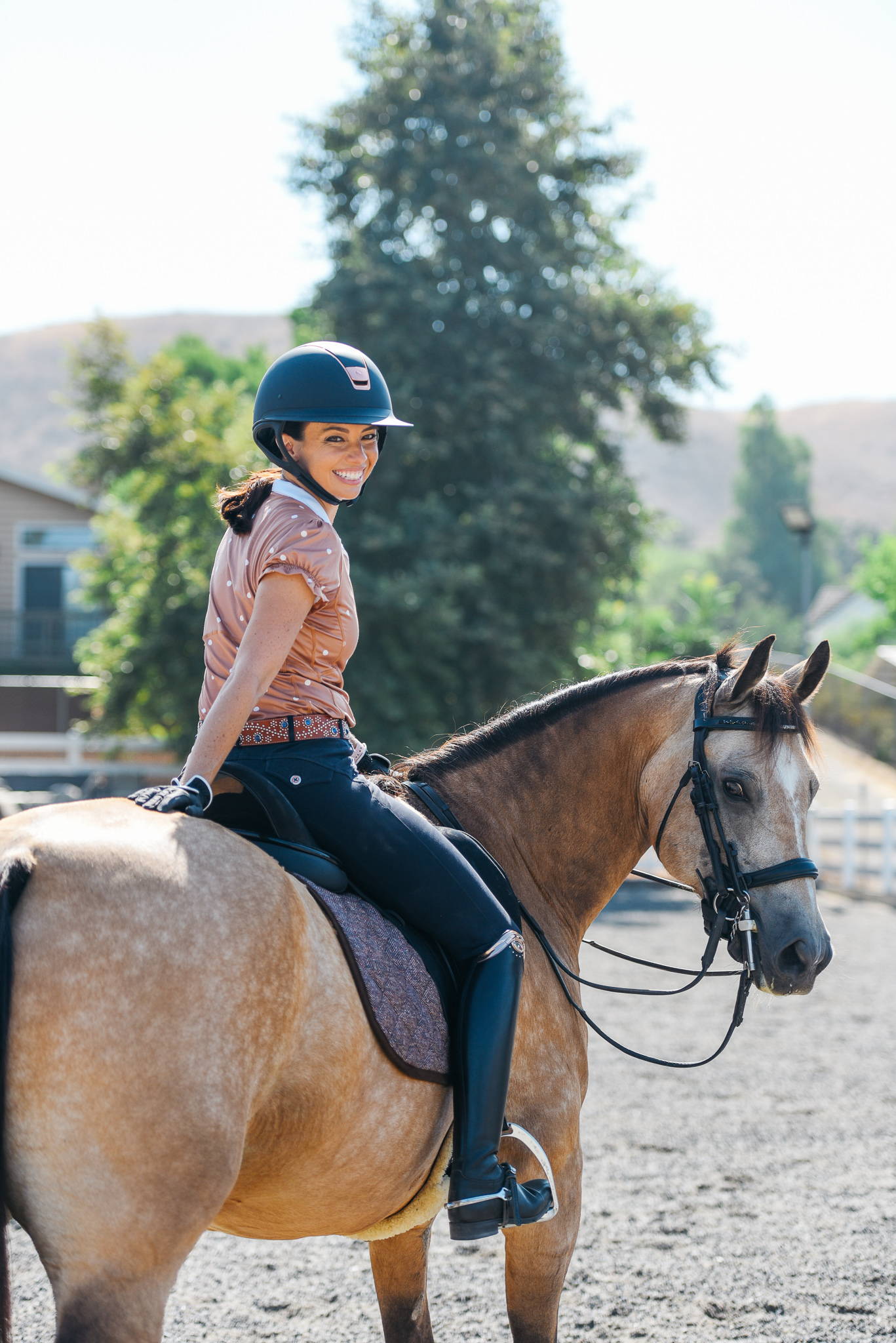 A VISIT TO THE HOME STABLES OF EVENTING RIDER, MOM AND HER STAR PONIES
---
BORN AND RAISED IN ST. LOUIS, MISSOURI, EQUESTRIAN BRITT SABBAH NOW HAPPILY RESIDES IN LOS ANGELES, CALIFORNIA. SHE BEGAN TAKING RIDING LESSONS AT THE AGE OF SIX, AND WHILE SHE GREW UP COMPETING IN THE HUNTERS, SHE ALWAYS KNEW SHE WANTED TO EVENT. UNFORTUNATELY FOR BRITT, THERE WERE NO EVENTING TRAINERS NEARBY. HOWEVER, HER BARN WAS ACROSS THE STREET FROM THE ONLY CROSS COUNTRY COURSE IN ST. LOUIS, SO SHE TOOK ADVANTAGE OF THIS BY HACKING OVER FROM TIME TO TIME TO SCHOOL THE FENCES. SHE NEVER GOT TO EVENT AS A YOUNG RIDER, BUT HUNTER PACES FILLED THE VOID UNTIL SHE COULD.
BRITT TOOK A LONG BREAK FROM RIDING DURING COLLEGE AND JUST AFTER, BUT SHE PICKED IT BACK UP EIGHT YEARS AGO. SHE FOUND AN EVENTING BARN IN LA AND WAS FINALLY ABLE TO START THE SPORT SHE'D ALWAYS WANTED TO TRY AS A KID. AFTER A FEW MONTHS OF LESSONS AND A LEASE, BRITT BOUGHT HER ½ WELSH, ½ QH 14.2HH PONY, LOUIE. TOGETHER SHE AND LOUIE MOVED UP FROM BEGINNER NOVICE TO PRELIMINARY IN ONLY THREE YEARS! HOWEVER, SHORTLY BEFORE THEY WERE SET TO COMPETE IN THEIR FIRST 2*, LOUIE SUSTAINED AN INJURY AND BRITT BECAME PREGNANT WITH HER DAUGHTER, RORY.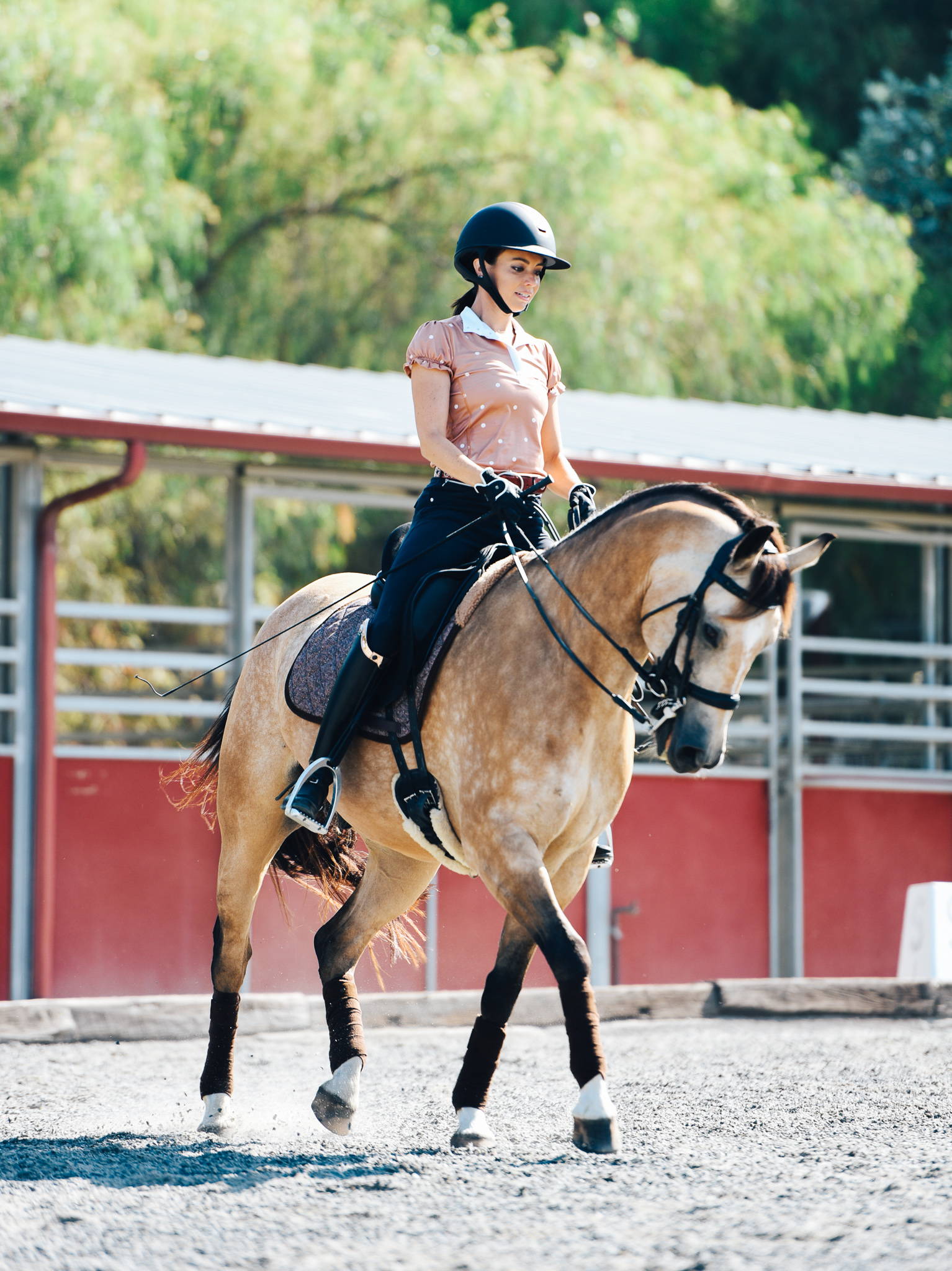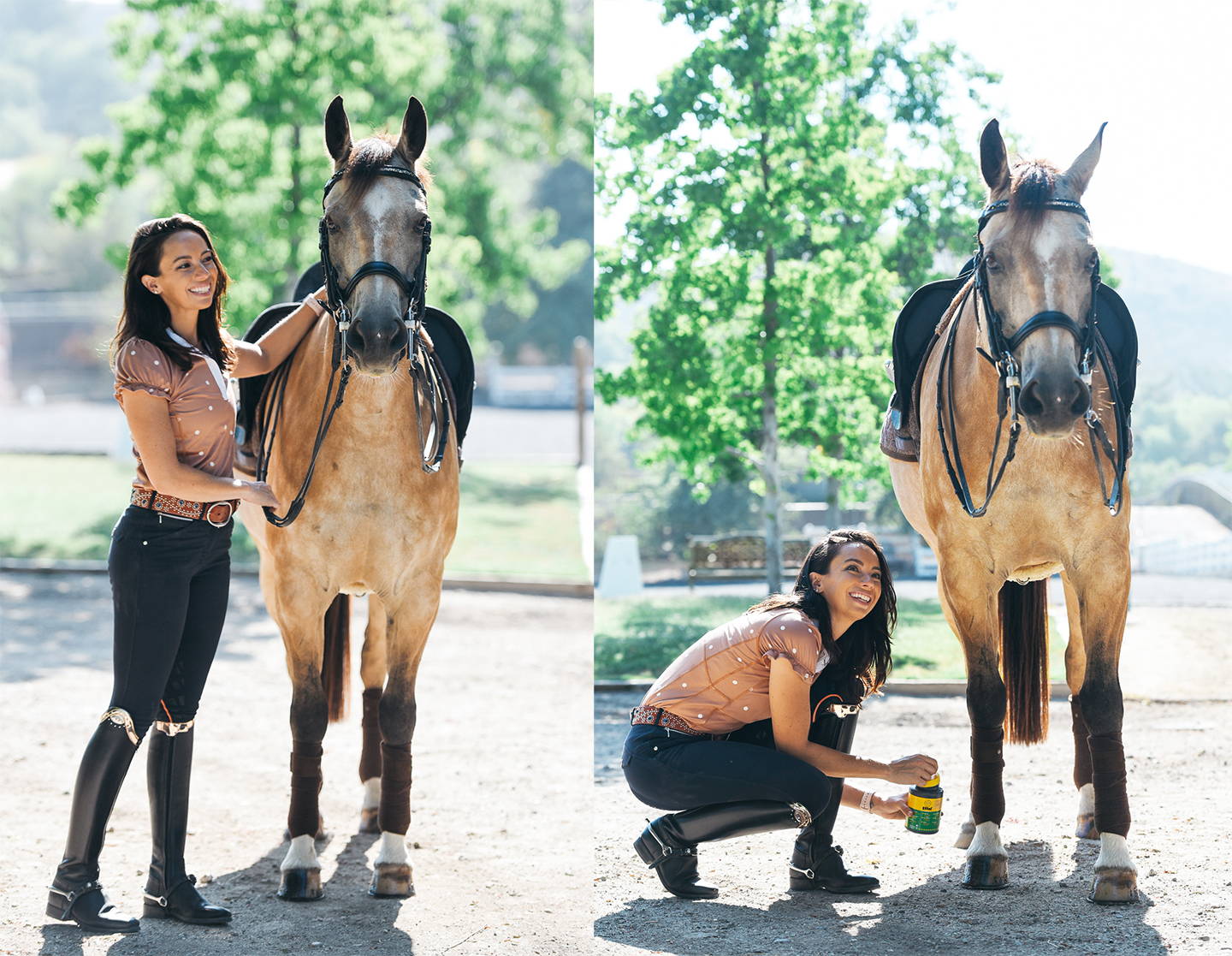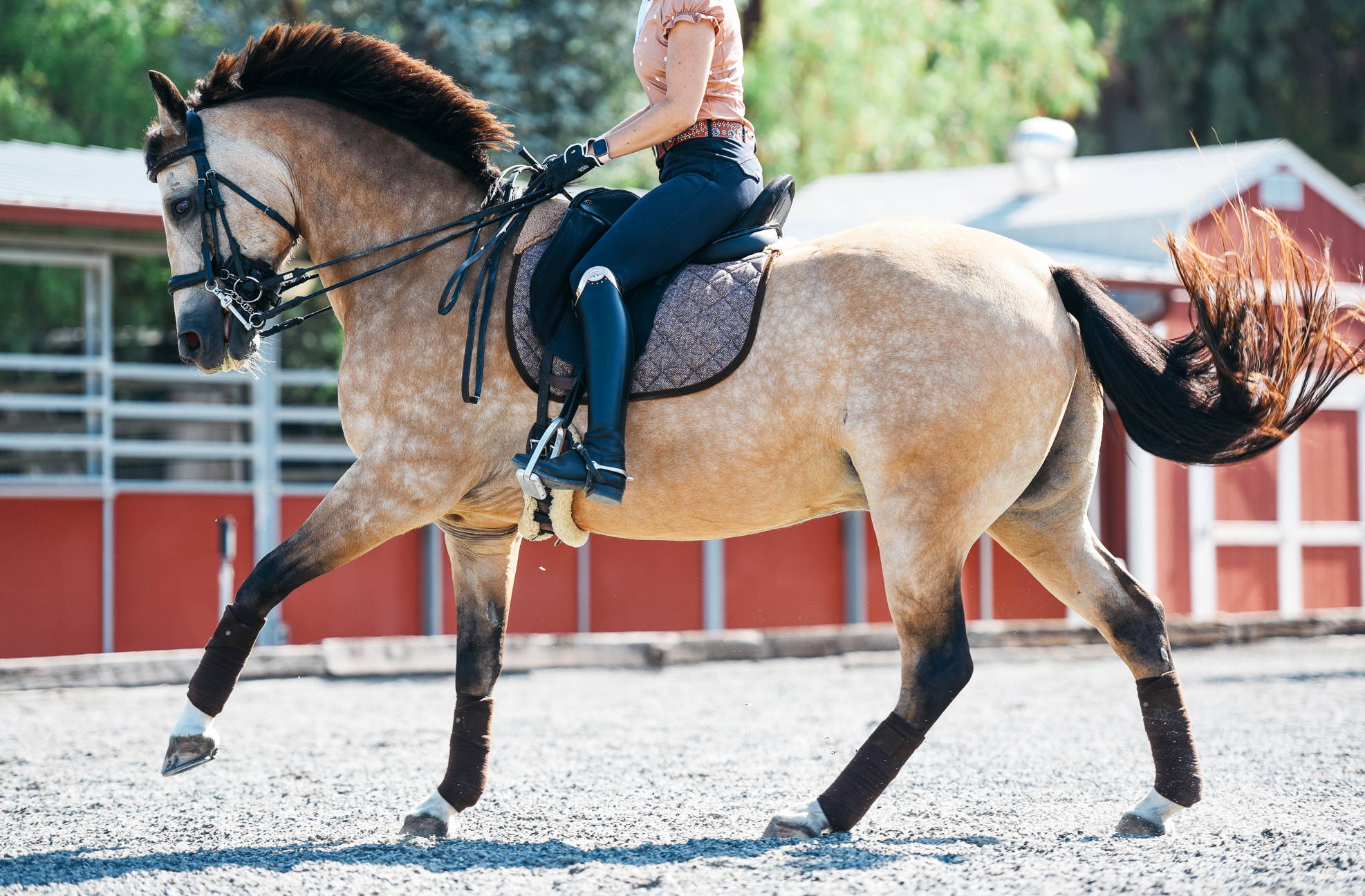 AFTER GIVING BIRTH, BRITT FOUND HERSELF A BIT TIMID IN THE SADDLE, AND WITH LOUIE NEEDING A CONFIDENT RIDER OVER FENCES, SHE DECIDED TO SWITCH HIS CAREER TO DRESSAGE. LUCKILY, SHE WAS IN THE POSITION TO ADD ANOTHER HORSE TO THE FAMILY AND KNEW SHE'D NEED A BIT MORE OF A PACKER OVER FENCES. ENTER RICKY, A 14.2HH CONNEMARA PONY A FRIEND HAD FOUND FOR HER IN IRELAND. SHE PURCHASED HIM SIGHT UNSEEN, AND THE TWO HAVE SUCCESSFULLY COMPETED UP TO PRELIMINARY EVENTING AND 1.15M JUMPERS.
BRITT TOOK ALL OF 2020 OFF FROM COMPETING BUT HAS BEEN BACK AT IT IN THE SHOW RING THIS YEAR. SHE AND LOUIE HAVE BEEN IN THE SANDBOX COMPETING PRIX ST. GEORGES AND INTERMEDIATE I AND RECENTLY COMPLETED SCORES FOR HER USDF SILVER MEDAL. SHE AND RICKY HAVE BEEN SPENDING THEIR TIME IN THE JUMPER RING, DOING THE 1.10M AND LOOKING TO MOVE UP THIS FALL.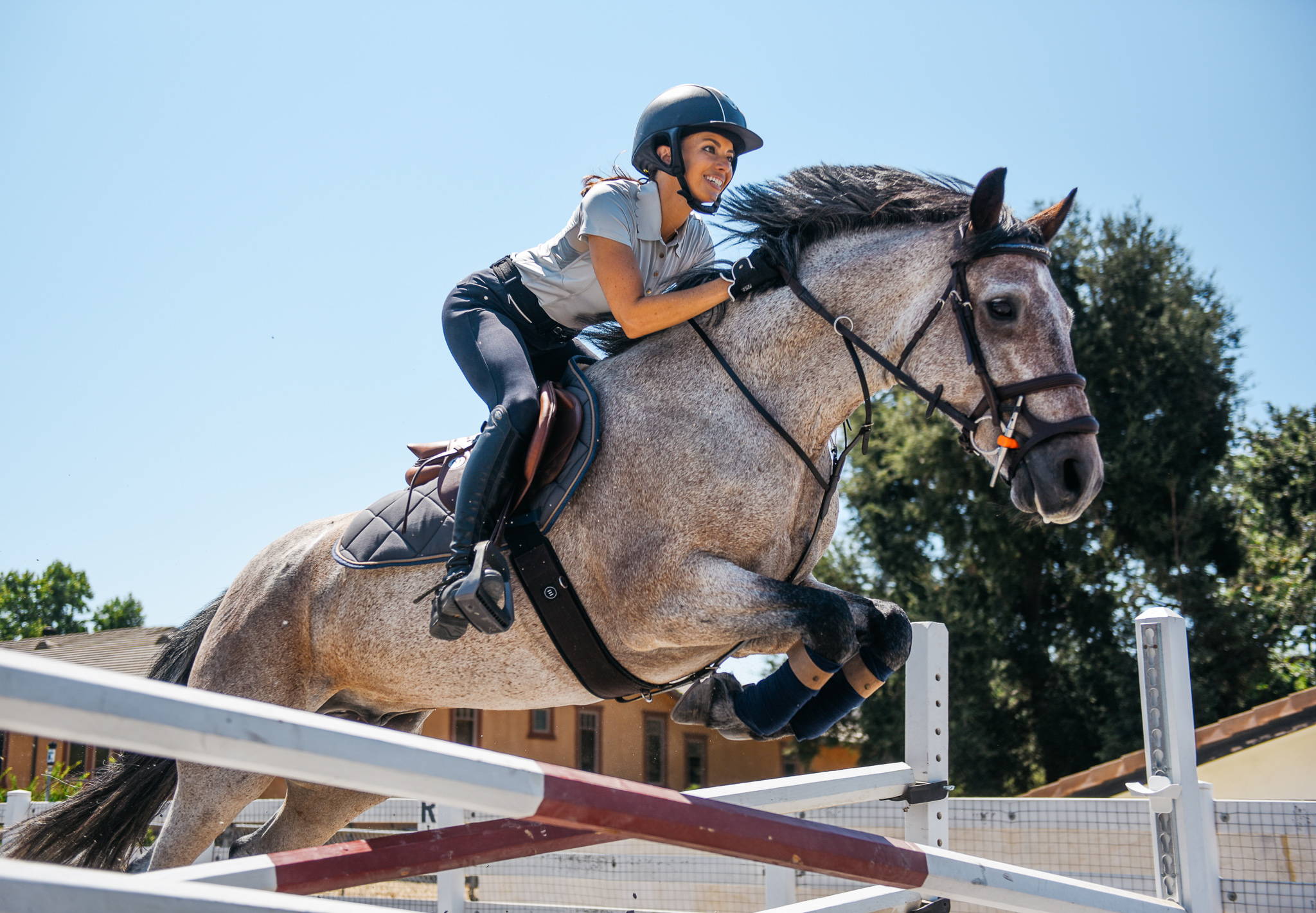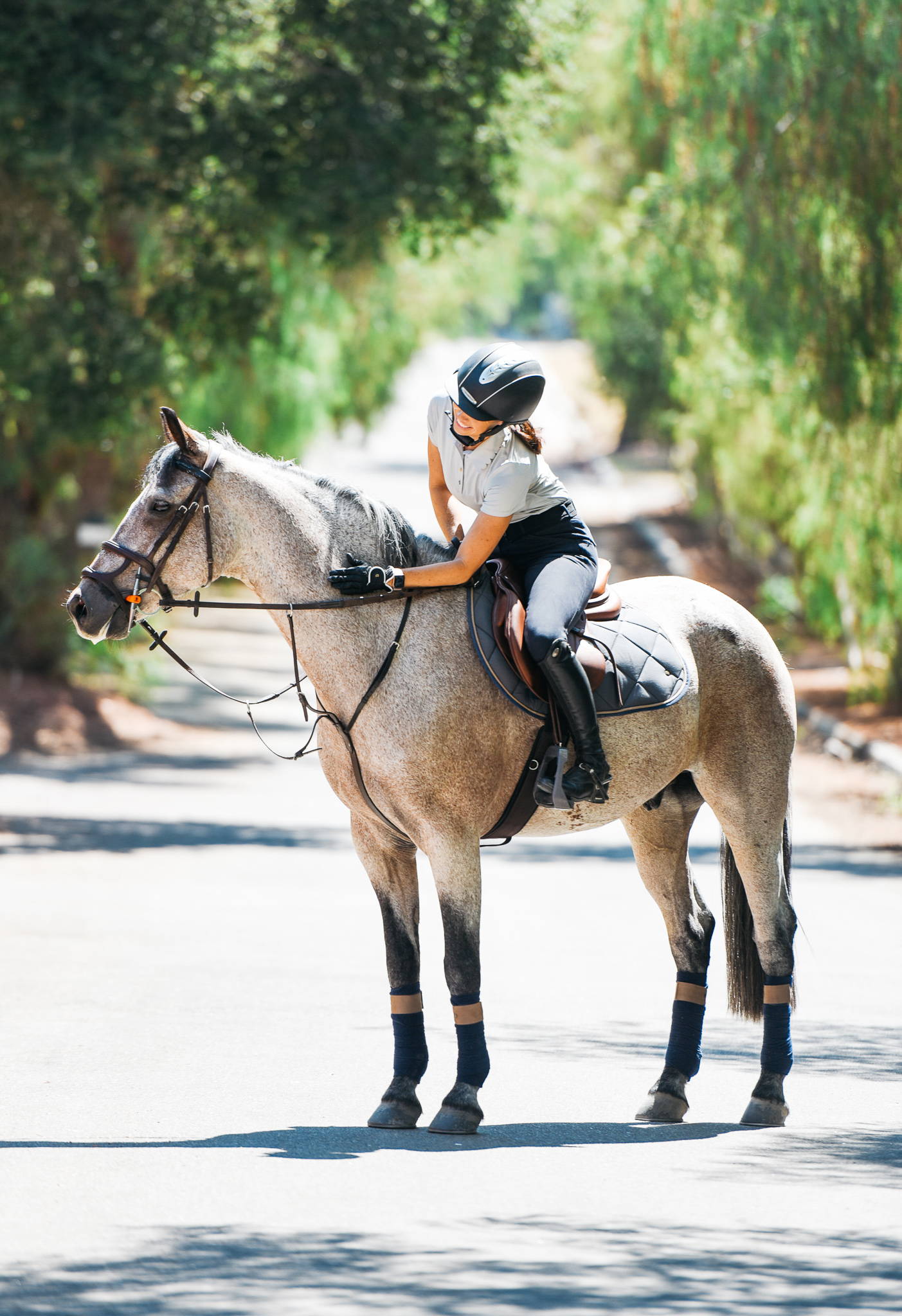 WHILE SHE IS NOT A PROFESSIONAL, BRITT CONSIDERS HERSELF MORE THAN "JUST A RIDER" BECAUSE SHE KEEPS HER HORSES AT HOME AND IS RESPONSIBLE FOR ALL OF THEIR DAILY CARE. SHE NOTES THAT IT FEELS LIKE A FULL-TIME JOB MOST DAYS BUT IS 100% WORTH IT! LOOK FOR HER TO CONTINUE BOTH HER DRESSAGE AND SHOW JUMPING CAREERS WITH LOUIE AND RICKY IN THE NEAR FUTURE.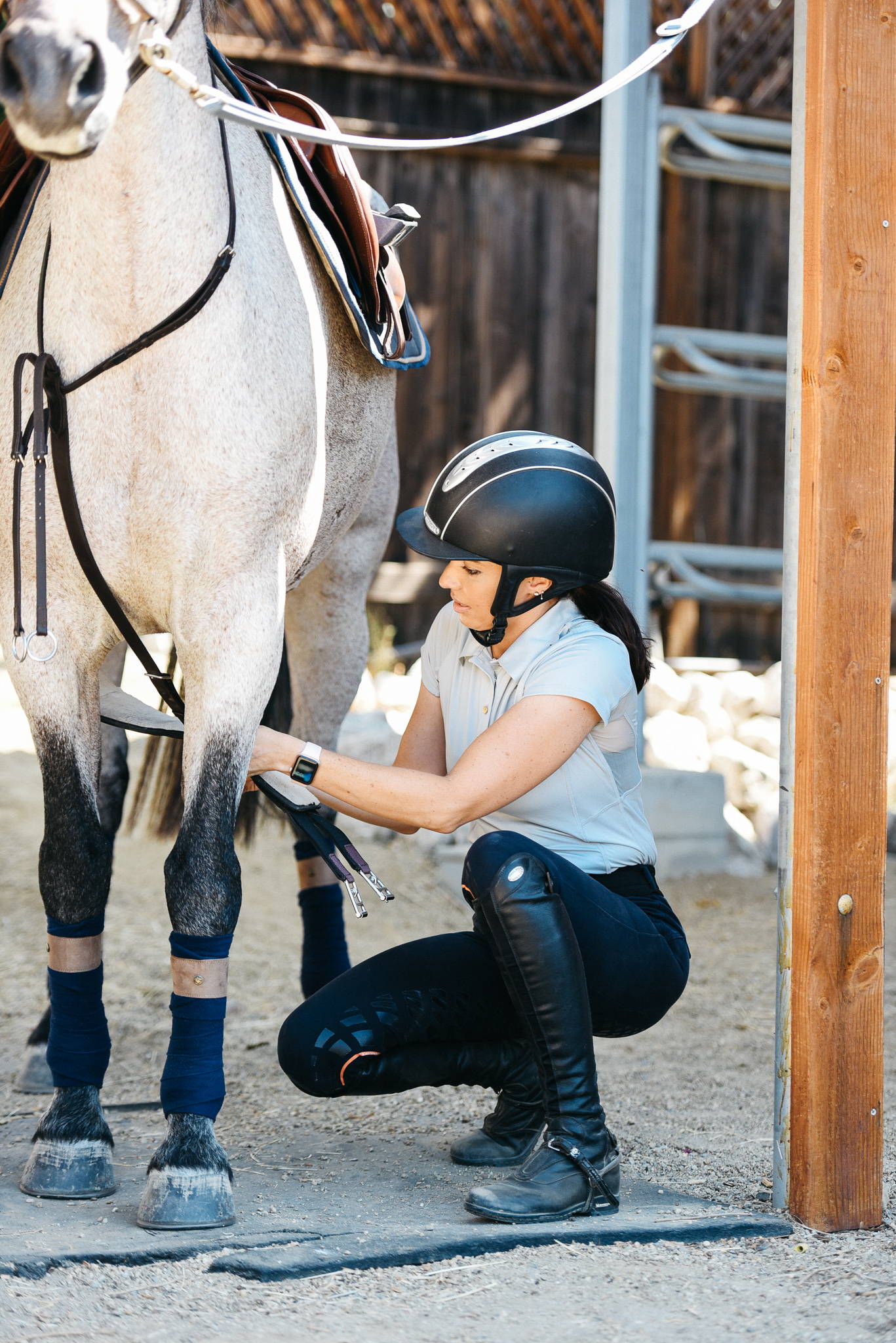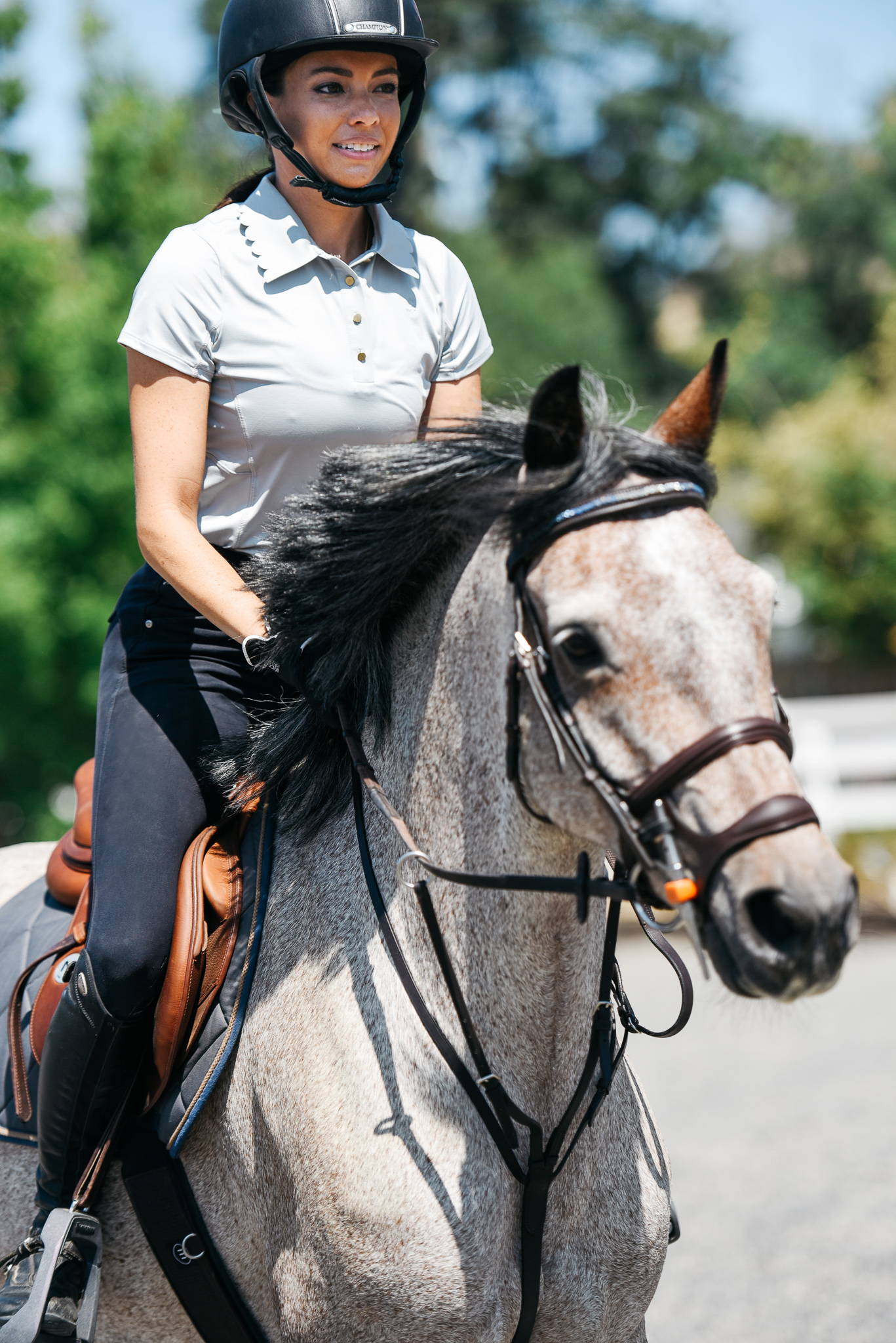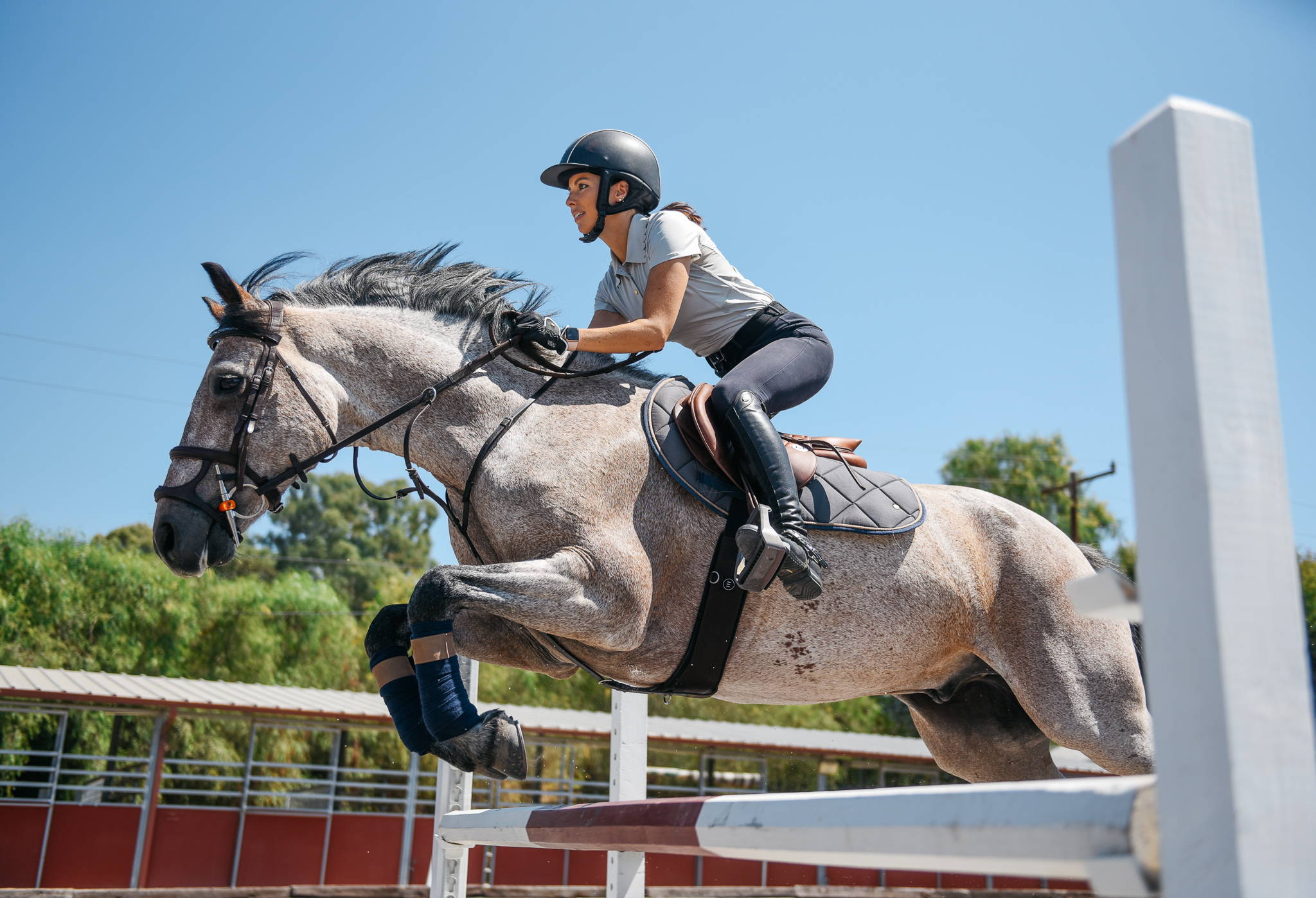 ---
Q&A
FIRST EVER MEMORY OF A HORSE.
I DON'T KNOW THAT I CAN PINPOINT ONE SPECIFIC FIRST MEMORY BUT REALLY JUST THE FEELING OF BEING A LITTLE KID AND WANTING TO CUDDLE SOME SHETLAND SIZED PONIES!

DESCRIBE THE HORSE/PONY(S) YOU LEARNED TO RIDE ON.
I THINK THE FIRST PONY I REALLY SPENT A LOT OF TIME RIDING WAS ONE NAMED JUMPIN' JACK FLASH. HE WAS A BLACK PONY WHO WAS NEARLY 40 YEARS OLD WHEN I STARTED TO RIDE HIM. HE WAS THE BARN FAVORITE DUE TO HIS SWEET PERSONALITY AS WELL AS HIS HAPPINESS AND SOUNDNESS TO STILL GIVE LESSONS AS A SUPER SENIOR HORSE. HE WAS STILL JUMPING INTO HIS EARLY 40S AND GIVING LESSONS UNTIL AT LEAST AGE 46. A TRUE LEGEND!

DO YOU REMEMBER AT WHAT POINT YOU BECAME HORSE OBSESSED?
I DON'T REMEMBER A POINT WHEN I WASN'T HORSE OBSESSED!

DO YOU REMEMBER YOUR FIRST FALL? HOW'D IT GO DOWN?
I ACTUALLY DON'T REMEMBER MY FIRST FALL! I DO REMEMBER MY MOST RECENT FALL THOUGH, WHICH WAS JUST A FEW WEEKS AGO AND WAS MY FIRST FALL EVER AT A HORSE SHOW. DOES THAT COUNT? HAHA!
DESCRIBE A FAVORITE HORSE SHOW MEMORY.
FINISHING MY FIRST PRELIMINARY WITH LOUIE WAS SURREAL. IT WAS INSTANT HAPPY TEARS AS SOON AS WE FINISHED CROSS COUNTRY, AND THEN A REPEAT HAPPY CRY AFTER WE FINISHED SHOW JUMPING THE NEXT DAY. HE JUMPED CLEAR AT BOTH AND MADE IT FEEL SO EASY. LOOKING BACK NOW, I STILL CAN'T BELIEVE WE EVER COMPETED AT THAT LEVEL!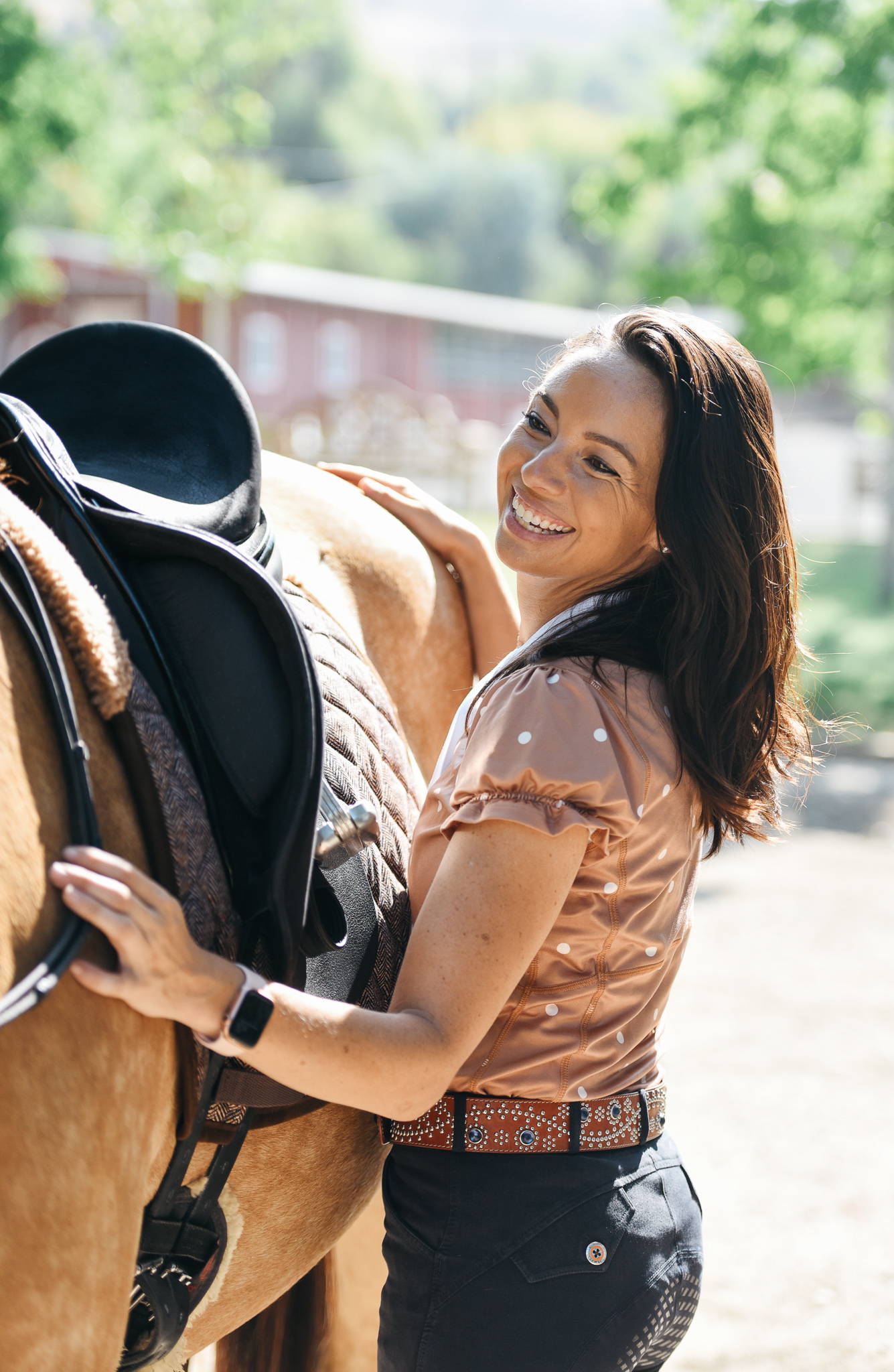 FAVORITE MEMORY/EXPERIENCE OF RIDING SOMEWHERE OUT OF YOUR USUAL REALM. EITHER TRAVELING, TRYING ANOTHER DISCIPLINE, RIDING AN UNUSUAL HORSE, ETC
I FEEL SO LUCKY TO LIVE IN CALIFORNIA BECAUSE WE CAN EASILY TAKE OUR HORSES TO THE BEACH! I TAKE BOTH OF MINE FAIRLY OFTEN, AND IT WILL ALWAYS BE MY ABSOLUTE FAVORITE THING TO DO WITH THEM. THEY BOTH LOVE IT. LOUIE LOVES TO GO SUPER DEEP INTO THE OCEAN AND HAVE THE WAVES CRASH ALL AROUND HIM, AND RICKY LOVES TO GALLOP. IF THERE IS ANY DRIFTWOOD IN THE WET SAND WE WILL JUMP IT, AND ONE TIME WE EVEN LUGGED AN ACTUAL JUMP DOWN TO THE BEACH, WHICH WAS ONE OF THE MOST FUN EXPERIENCES OF MY LIFE! WE ARE DEFINITELY PLANNING TO DO THAT AGAIN SOMETIME.
DO YOU HAVE A FAVORITE PIECE OF EQUIPMENT OR TACK YOU FEEL MAKES A DIFFERENCE IN YOUR RIDE AND YOUR HORSE(S)?
FINDING WELL-FITTING SADDLES HAS MADE A HUGE DIFFERENCE FOR ME. OUTSIDE OF TACK AND EQUIPMENT, I FEEL THAT REGULAR BODY WORK, (BOTH MASSAGE AND CHIROPRACTIC), MAKES A HUGE DIFFERENCE FOR MY HORSES AND HELPS THEM FEEL THEIR BEST.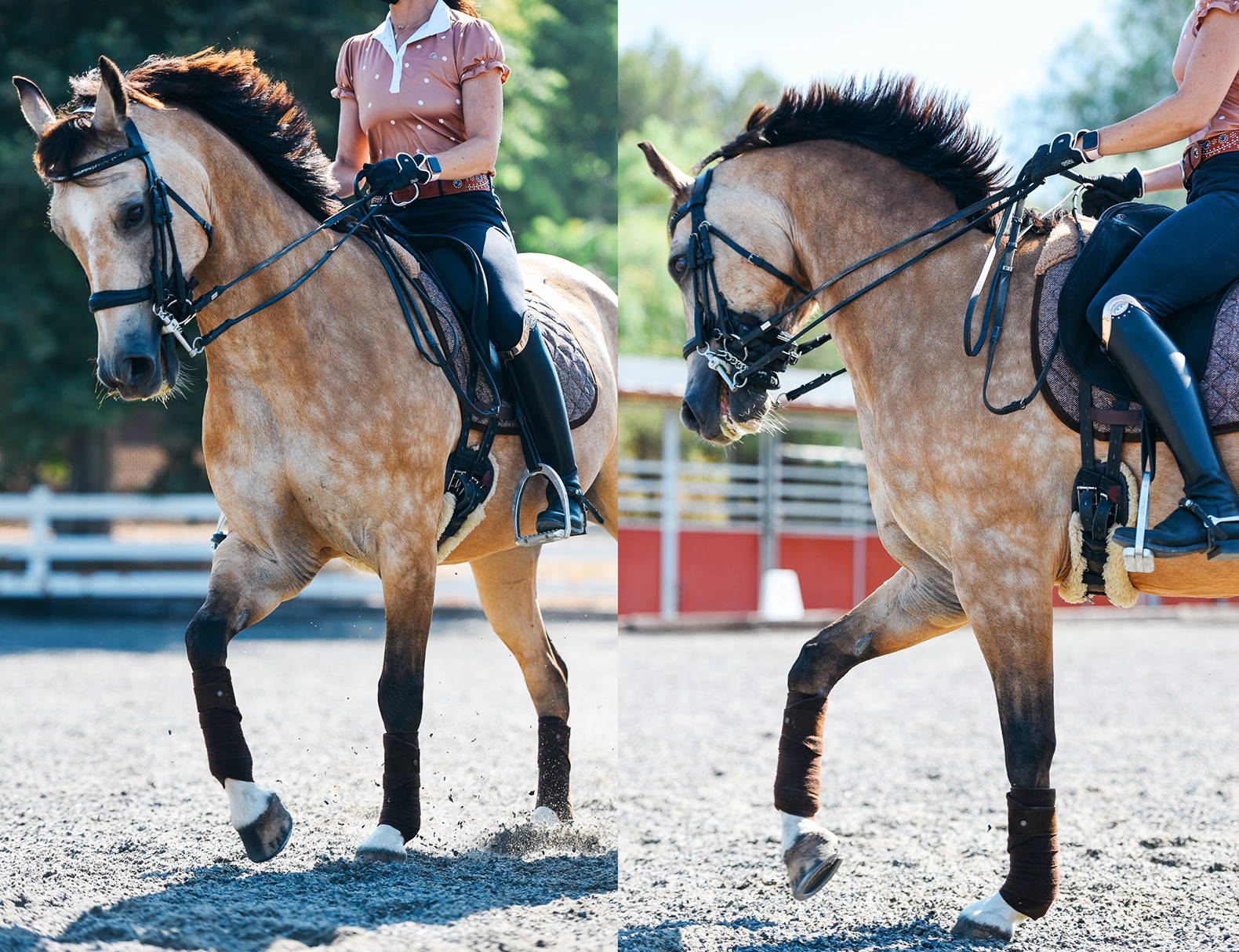 WHAT DO YOU DO WHEN NOT AT THE BARN?
MOSTLY MOM THINGS! I ALSO TRY TO SQUEEZE SOME WORKOUTS IN—MOSTLY SPINNING, YOGA, AND PILATES, BUT I DON'T DO IT NEARLY AS MUCH AS I'D LIKE.
DO YOU HAVE OTHER ANIMALS BESIDES HORSES?
ASIDE FROM LOUIE AND RICKY, WE HAVE 3 DOGS, 2 GOATS, 6 CHICKENS, AND 3 MINIATURE HORSES.
FAVORITE SNACK TO GIVE HORSES?
I'M PRETTY SIMPLE ABOUT TREATS—CARROTS ARE MY GO-TO.
FAVORITE TYPE OF WEATHER TO RIDE IN?
MID 60S AND OVERCAST.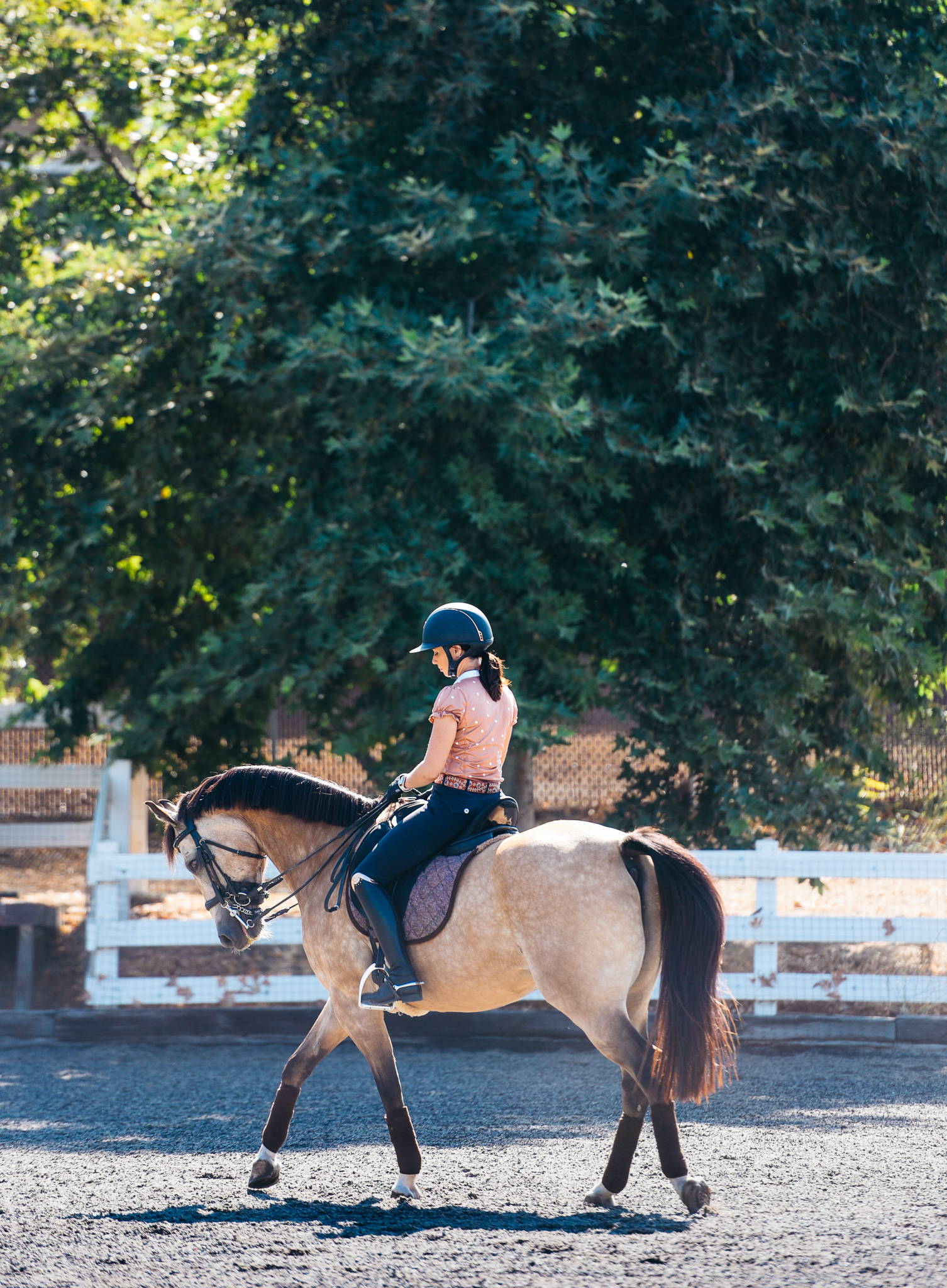 DO YOU HAVE ANY HORSES WITH GOOFBALL PERSONALITIES, AND IF SO, DESCRIBE SOME OF THEIR MOVES.
ALL OF THEM HAVE GOOFBALL PERSONALITIES! LOUIE IS VERY OUTGOING AND THINKS EVERYONE IS HIS BEST FRIEND. HE WOULD CRAWL IN YOUR LAP IF HE COULD, EVEN IF YOU'RE A PERFECT STRANGER. UNDER SADDLE HE IS VERY SENSITIVE, FORWARD, AND HOT, BUT HE'S A PERFECT ANGEL WHEN HE GIVES RIDES TO MY THREE-YEAR-OLD DAUGHTER. HE COMPLETELY MELTS FOR HER. RICKY IS A VERY CHEEKY PONY. HE'S SUPER SWEET AND CUDDLY WITH PEOPLE BUT IS VERY PICKY ABOUT OTHER HORSES. HE LOVES LOUIE AND OUR MINIS BUT CAN BE QUITE MEAN TO ANY OTHER HORSES. HE IS VERY ALPHA AND WILL KICK AND SQUEAL AT ANY OTHER HORSE WHO HE THINKS LOOKS AT HIM FUNNY, SO I HAVE TO BE CAREFUL NOT TO LET HIM GET TOO CLOSE! IN THE STABLE, I CAN'T LET ANYTHING HANG ON OR NEAR HIS PADDOCK. HE WILL THROW OR DESTROY ANYTHING WITHIN HIS REACH!
DO YOU HAVE COLORS YOU ALWAYS LOOK FOR WHEN BUYING THINGS FOR YOUR HORSES: PADS, WRAPS, HALTERS, ETC.? OR DO YOU ALWAYS MATCH YOUR BARN COLORS, AND IF SO, WHAT ARE THEY?
NAVY AND ROSE GOLD ARE ALWAYS MY GO-TO COLORS.

BROWN OR BLACK TACK?
BROWN FOR JUMPING, BLACK FOR DRESSAGE.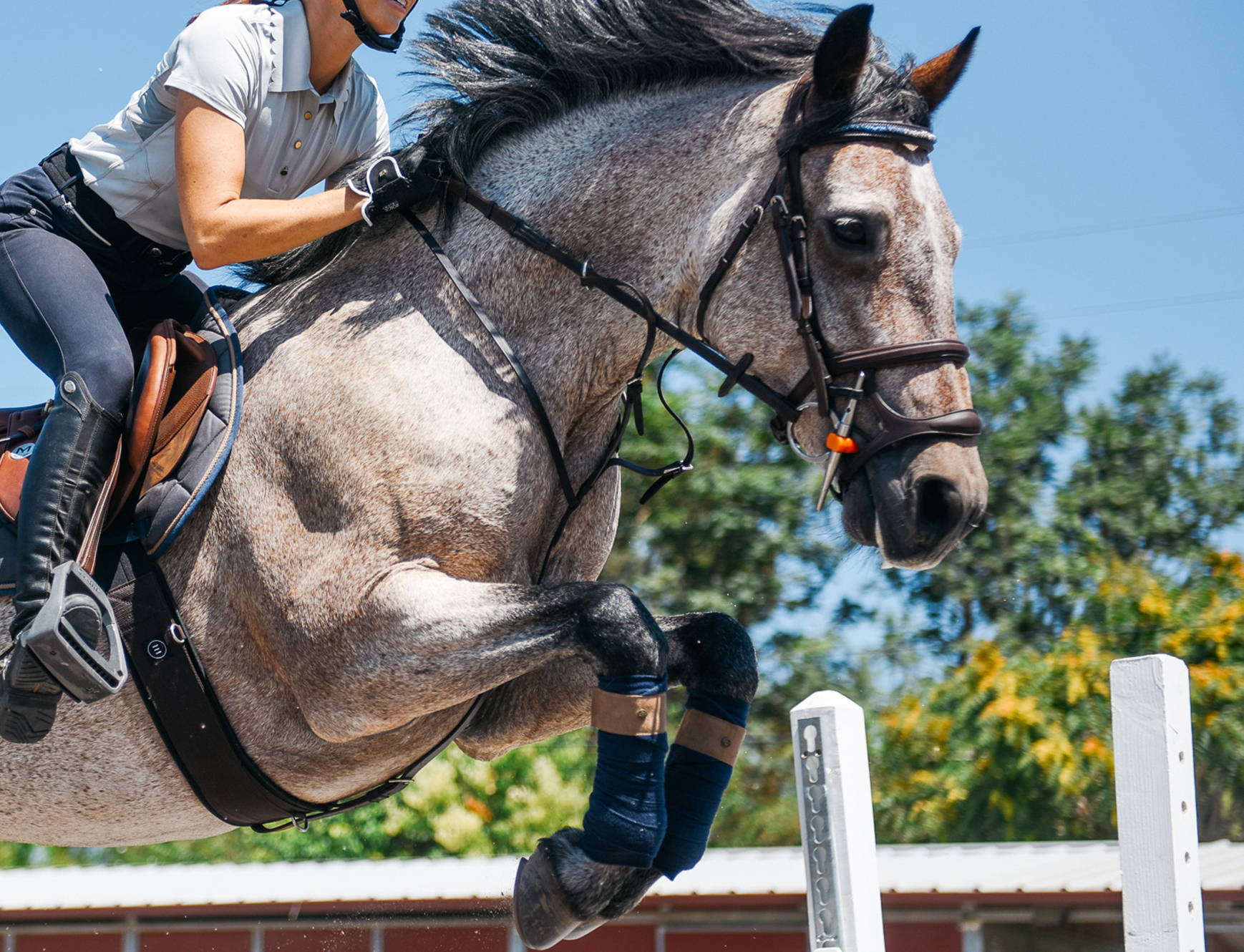 DESCRIBE YOURSELF AS A HORSE: BREED, PERSONALITY, ABILITIES, AND WHAT YOU ENJOY DOING THE MOST.
THIS IS A TOUGH ONE! DEFINITELY A PONY BREED, PROBABLY A CONNEMARA—SMALL IN STATURE, BUT PRETTY STRONG AND ATHLETIC, BUT ALSO OCCASIONALLY A BIT STUBBORN.
IS THERE SOMEONE WHO YOU FEEL INFLUENCED YOU ON YOUR PATH AS AN EQUESTRIAN AND WHO YOU ARE TODAY?
I REALLY LOOK UP TO MY DRESSAGE TRAINER, CARLY TAYLOR-SMITH. SHE AND HER MOM PURCHASED HER CURRENT GRAND PRIX HORSE AS A FOAL, AND CARLY HAS PRODUCED HIM UP TO THE VERY TOP OF THE SPORT FROM THE VERY START OF HIS CAREER. SHE TAKES IMMACULATE CARE OF HER HORSES AND DOES A LOT OF CROSS TRAINING. SHE JUMPS THEM FROM TIME TO TIME AND WE GO ON A LOT OF BEACH RIDES TOGETHER. I DON'T KNOW MANY OTHER DRESSAGE HORSES THAT REGULARLY GO FOR A GALLOP AT THE BEACH! SHE'S DEFINITELY HELPED ME SEE THAT YOU CAN GET TO THE VERY TOP OF THE SPORT AND STILL HAVE FUN WITH YOUR HORSES OUTSIDE OF THE COMPETITION SPHERE.