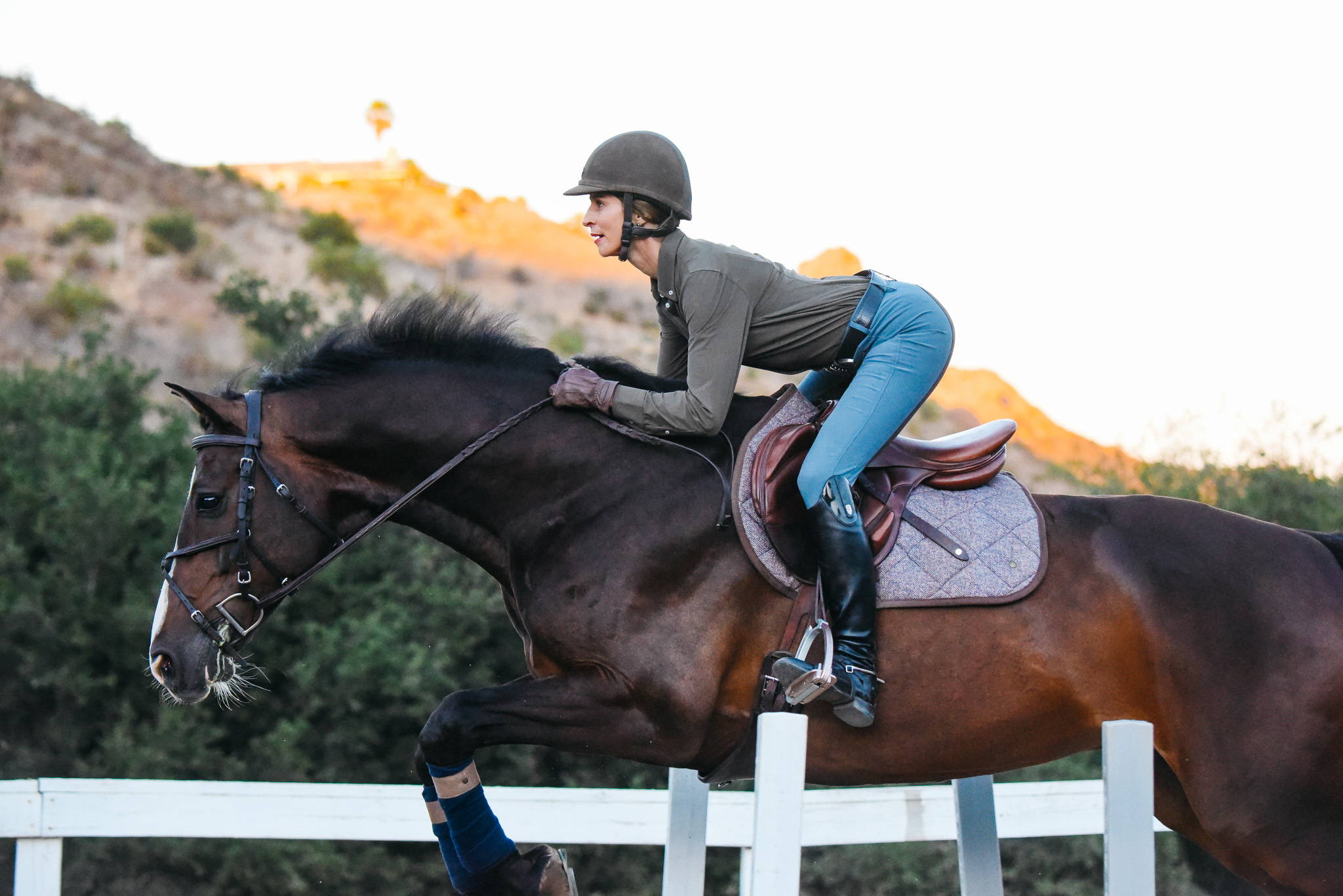 AN AFTERNOON WITH TRAINER, EVENTING RIDER
AND CO-OWNER OF ROLLINS | JOHNSON EQUESTRIAN
---
MCKENZIE BLAIR ROLLINS WAS BORN AND RAISED IN SHELBURNE FALLS, A TOWN IN WESTERN MASSACHUSETTS. SHE BEGAN RIDING AT THE AGE OF FIVE IN THE LEADLINE DIVISION, AND BY AGE SIX SHE FOUND HERSELF IN STRUCTURED LESSONS AT STONELEIGH BURNHAM SCHOOL (SBS), A PRIVATE GIRLS' SCHOOL IN GREENFIELD, MA.
AFFORDING RIDING LESSONS AND SHOWING HAS ALWAYS BEEN DIFFICULT, BUT MCKENZIE HAS NEVER BEEN ONE TO SHY AWAY FROM HARD WORK. IN ORDER TO EASE THE FINANCIAL BURDEN THAT OFTEN COMES WITH HORSES, MCKENZIE SPENT HER YOUTH WORKING AT SBS DURING HOLIDAY BREAKS AND ON THE WEEKENDS. SUMMER BREAKS WERE SPENT WORKING WITH THE ASSISTANT BARN MANAGER DOING DAILY CHORES AND PREPPING THE PROPERTY FOR HORSE SHOWS, AND MCKENZIE'S MOTHER COULD OFTEN BE FOUND WORKING ALONGSIDE HER DAUGHTER TO PAY FOR HER LESSONS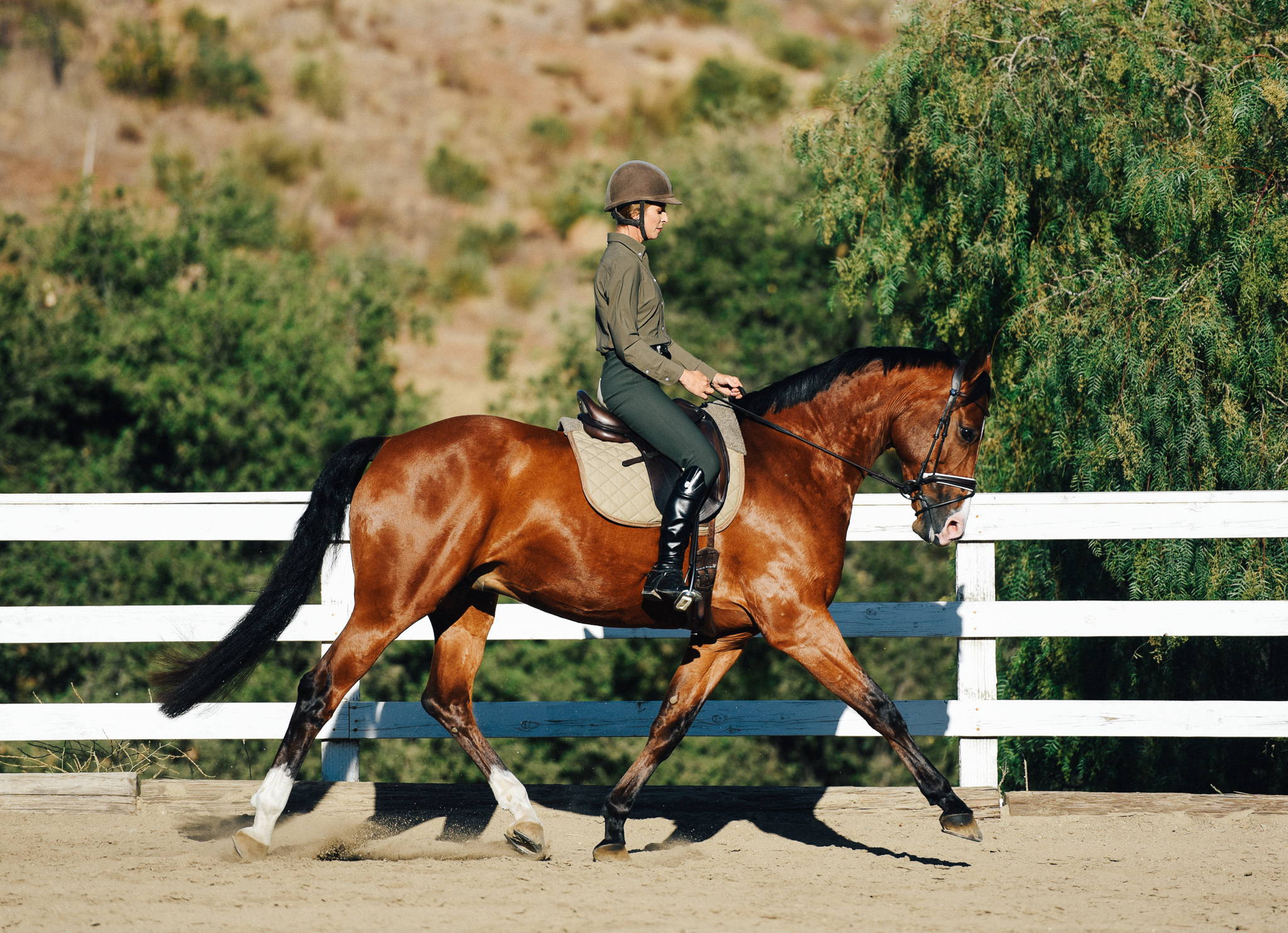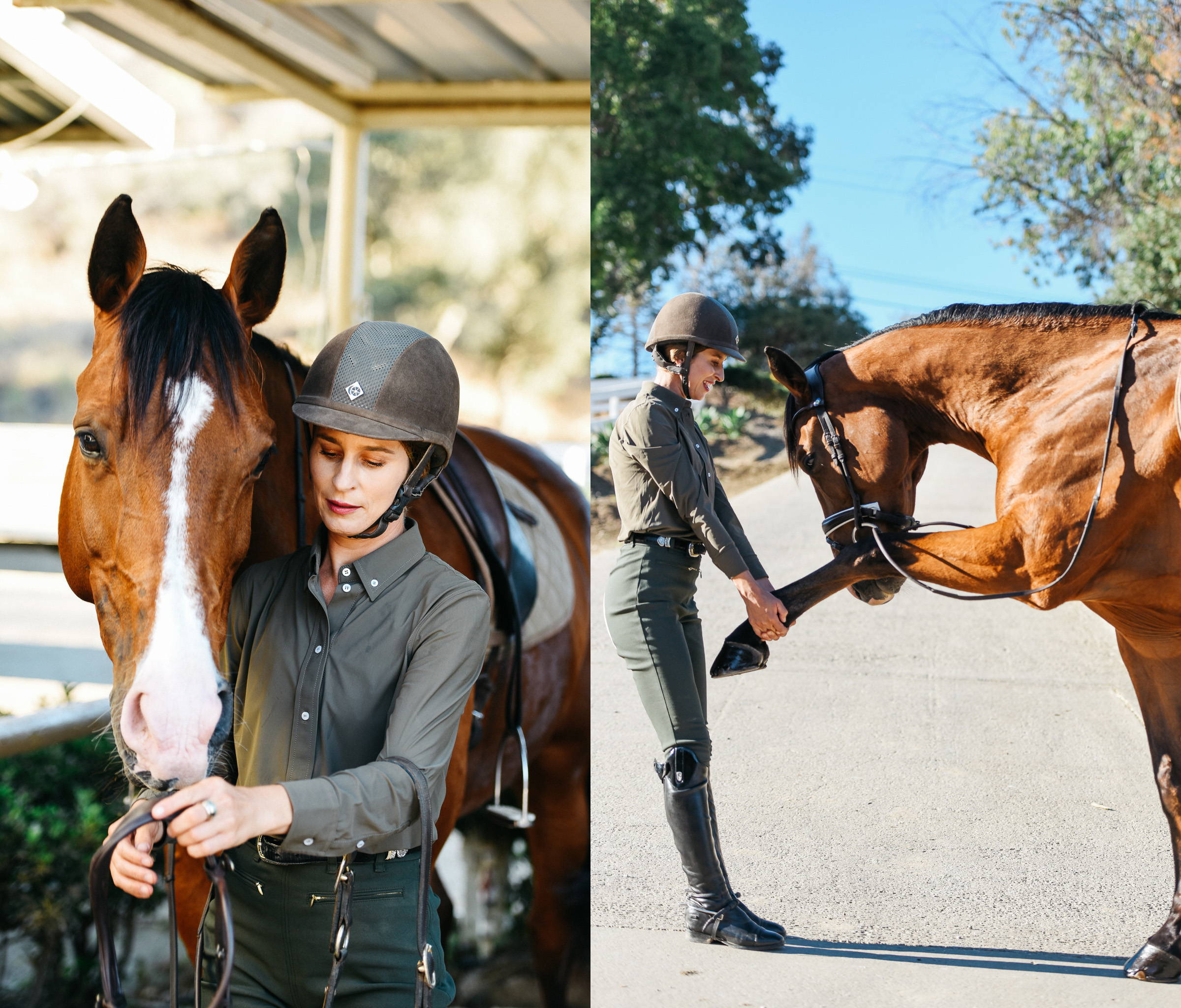 SBS PROVIDED MCKENZIE WITH A MULTITUDE OF RIDING OPPORTUNITIES AND EXPOSURE TO DIFFERENT DISCIPLINES WHERE SHE WAS A MEMBER OF THEIR HUNT SEAT TEAM AND DRESSAGE TEAM. IN COLLEGE, AT THE UNIVERSITY OF VERMONT, SHE DISCOVERED ANOTHER FACET OF THE INDUSTRY THAT SHE ENJOYED – TEACHING! UPON GRADUATION, MCKENZIE WAS A PROFESSIONAL GROOM ON THE EAST COAST SHOW CIRCUIT, AND LATER, SHE WAS EMPLOYED BY A PREP SCHOOL IN CONNECTICUT WHERE SHE RODE, MANAGED, TAUGHT, AND COACHED. IT WAS ALSO WHERE SHE FELL BACK IN LOVE WITH THE SPORT OF EVENTING. NOW MCKENZIE RESIDES IN MALIBU, CALIFORNIA, WHERE SHE CO-OPERATES A BOUTIQUE TRAINING FACILITY IN THE SANTA MONICA MOUNTAINS. HER CLIENTS RANGE IN AGE FROM 13 TO 65, AND SHE ENJOYS WORKING WITH A DIVERSE GROUP OF DEVOTED EQUESTRIANS.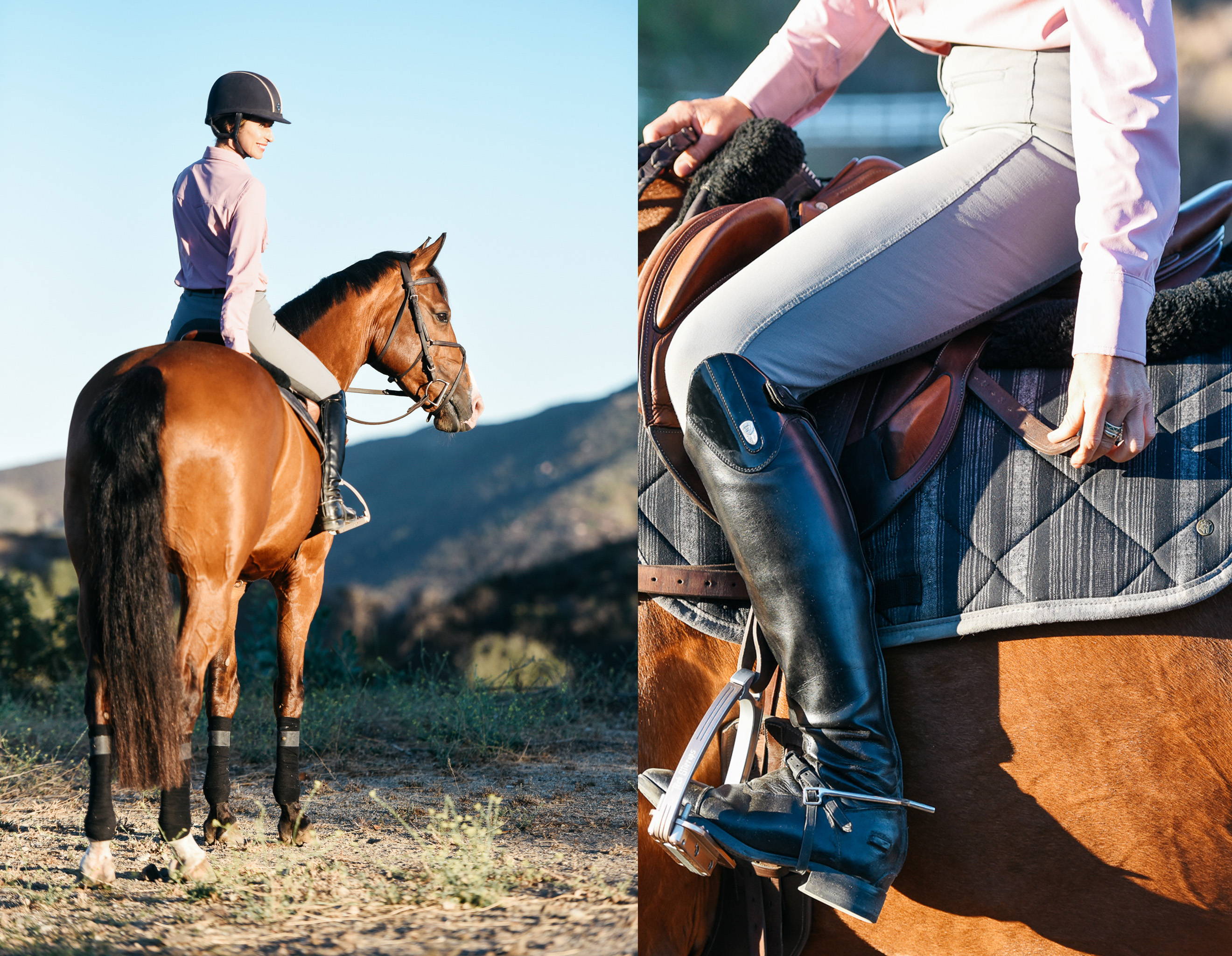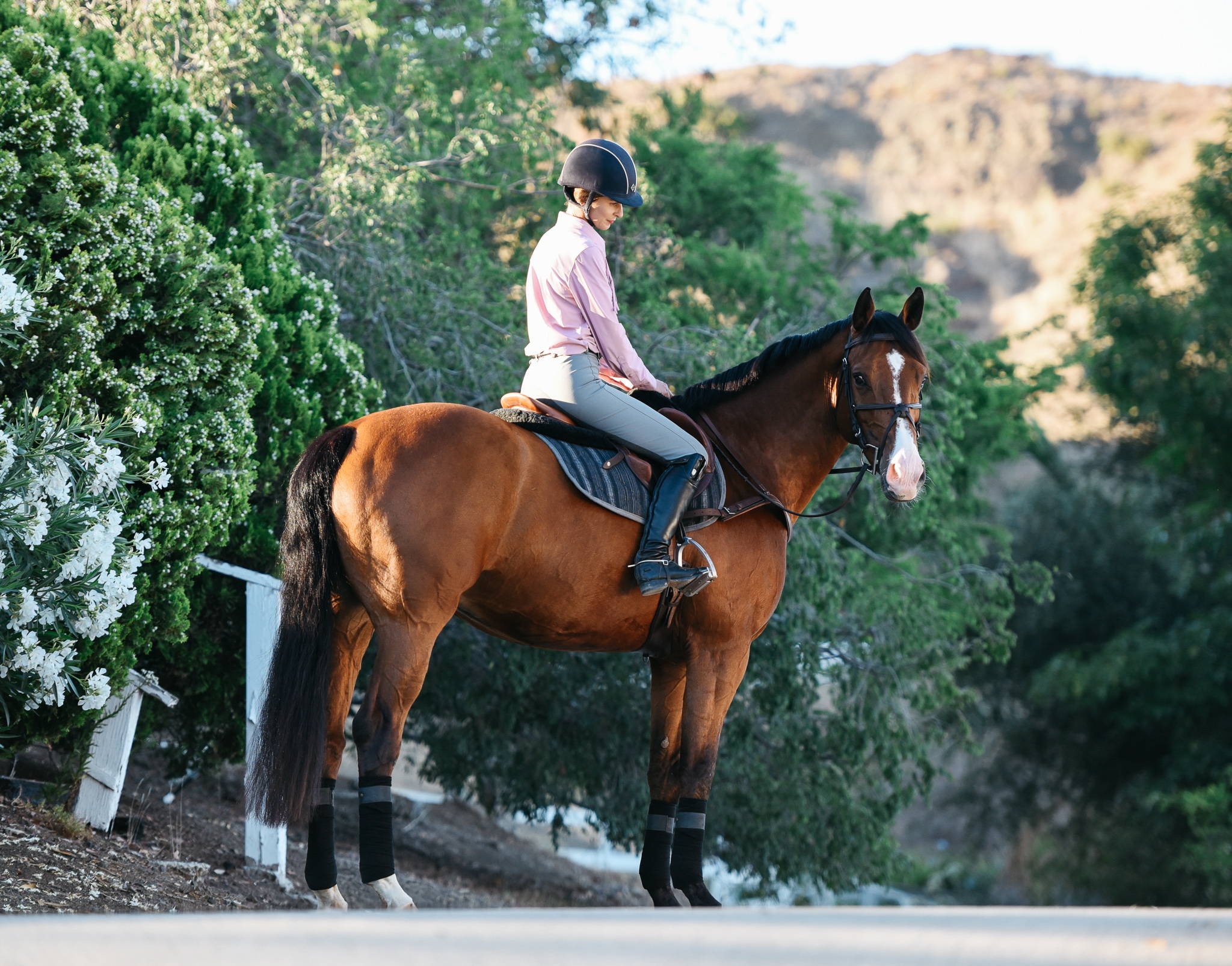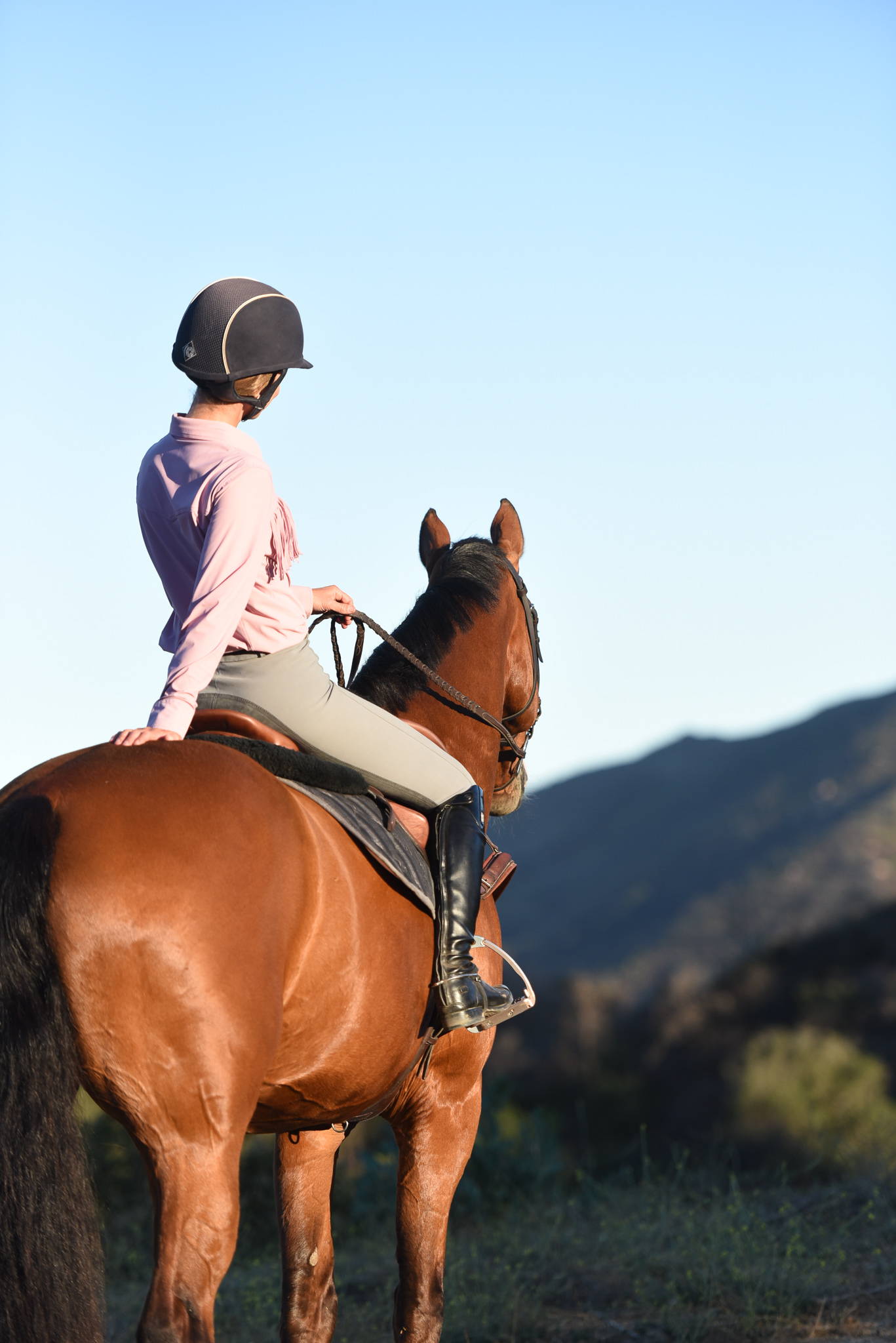 AS A RIDER AND A TRAINER, SHE LOVES TO LEARN, AND SHE LOVES TO SHARE THAT KNOWLEDGE WITH OTHERS. MCKENZIE NOTES THAT HORSE LIFE IS HARD, BUT IT IS NOT QUITE AS HARD WHEN SURROUNDED BY AN INCREDIBLE TEAM. AS A COMPETITOR, SHE HAS AN IMPRESSIVE LIST OF ACCOMPLISHMENTS, INCLUDING BUT NOT LIMITED TO: 2018 AMERICAN EVENTING TRAINING HORSE CHAMPION AND USEA NATIONAL TRAINING LEVEL HORSE WITH HER HORSE, EXCEL STAR LORD (FRANK), AND 2018 USEA ADULT TRAINING LEVEL RIDER.
NOT AFRAID TO GET HER HANDS DIRTY, MCKENZIE IS VERY INVOLVED IN EVERY ASPECT OF HER HORSES' CARE AND HER BARN'S MAINTENANCE. THE DAYS ARE LONG, AND THE WORK IS HARD, BUT IT HAS TRULY BEEN A LABOR OF LOVE. WHILE THE FUTURE IS HARD TO PREDICT IN THIS EVER-EVOLVING INDUSTRY, MCKENZIE WILL CONTINUE TO DEVELOP HERSELF AS A RIDER AND A TRAINER. HAVING HAPPY, COMPETITIVE HORSES AND HELPING HER STUDENTS SUCCEED IS ALWAYS A CONSTANT GOAL.
---
Q&A
FIRST EVER MEMORY OF A HORSE.
I RODE A SBS SCHOOL HORSE NAMED POMPER ZON – I FELL IN LOVE WITH HIM.

DESCRIBE THE HORSE/PONY(S) YOU LEARNED TO RIDE ON.
OH, THERE WERE SO MANY! ZON, HIGH HOPES, VICKY, SHEBA, WAVE, DANCER, BLACK ICE, BEYOND, APRIL, PEANUT, AND BOY!
SBS HAD A REALLY GREAT GROUP OF SCHOOL HORSES AND PONIES. I WAS LUCKY ENOUGH TO RIDE DIFFERENT TYPES, AS WELL AS LEARN BY WATCHING ALL OF THE OLDER RIDERS.

DO YOU REMEMBER AT WHAT POINT YOU BECAME HORSE OBSESSED?
I DON'T – IT JUST FEELS LIKE I HAVE ALWAYS LOVED HORSES.

DO YOU REMEMBER YOUR FIRST FALL? HOW'D IT GO DOWN?
I DON'T KNOW I SHOULD ASK MY MOM, BUT I HOPE I GOT RIGHT BACK UP!
DESCRIBE A FAVORITE HORSE SHOW MEMORY.
MY TRIPS TO REBECCA FARM WITH FRANK AND DEFENDER, (A SHOW JUMPER TURNED EVENTER), WERE REALLY SO MAGICAL. IT IS SUCH A BEAUTIFUL PLACE, AND YOU CAN'T HELP BUT SMILE FROM SUN UP TO SUN DOWN BECAUSE YOU FEEL SO LUCKY TO BE THERE. THERE WAS ONE MORNING THAT I WAS HAND WALKING BOTH BOYS AND WE TREKKED WAY OUT INTO THE YELLOW-SPECKLED FIELDS OF MUSTARD PLANTS. IT WAS JUST THE THREE OF US, AND WHEN WE GOT TO THE FAR END OF THE FIELD, A HUGE BALD EAGLE SWOOPED DOWN IN FRONT OUT US AND THEN CONTINUED TO SOAR AROUND IN THE SKY. BOTH HORSES QUIETLY WATCHED AS IF THIS EAGLE WAS PUTTING ON A SHOW FOR JUST US. IT WAS SO SPECIAL.
WHEN FRANKIE (EXCEL STAR LORD) AND I COMPETED AT THE AMERICAN EVENTING CHAMPIONSHIPS IN COLORADO, MY MOM, BOYFRIEND, AND TWO DEAR FRIENDS WERE ALL THERE. I FELT SO MUCH LOVE AND SUPPORT. AND WE WON! THEN JUST WHEN THINGS SEEMED LIKE THEY COULDN'T GET ANY BETTER, CHRIS PRATT (WHO PLAYS STAR-LORD IN MARVEL'S GUARDIANS OF THE GALAXY) HEARD THE NEWS AND RECORDED A VIDEO TO CONGRATULATE US. IT WAS SO KIND AND SWEET.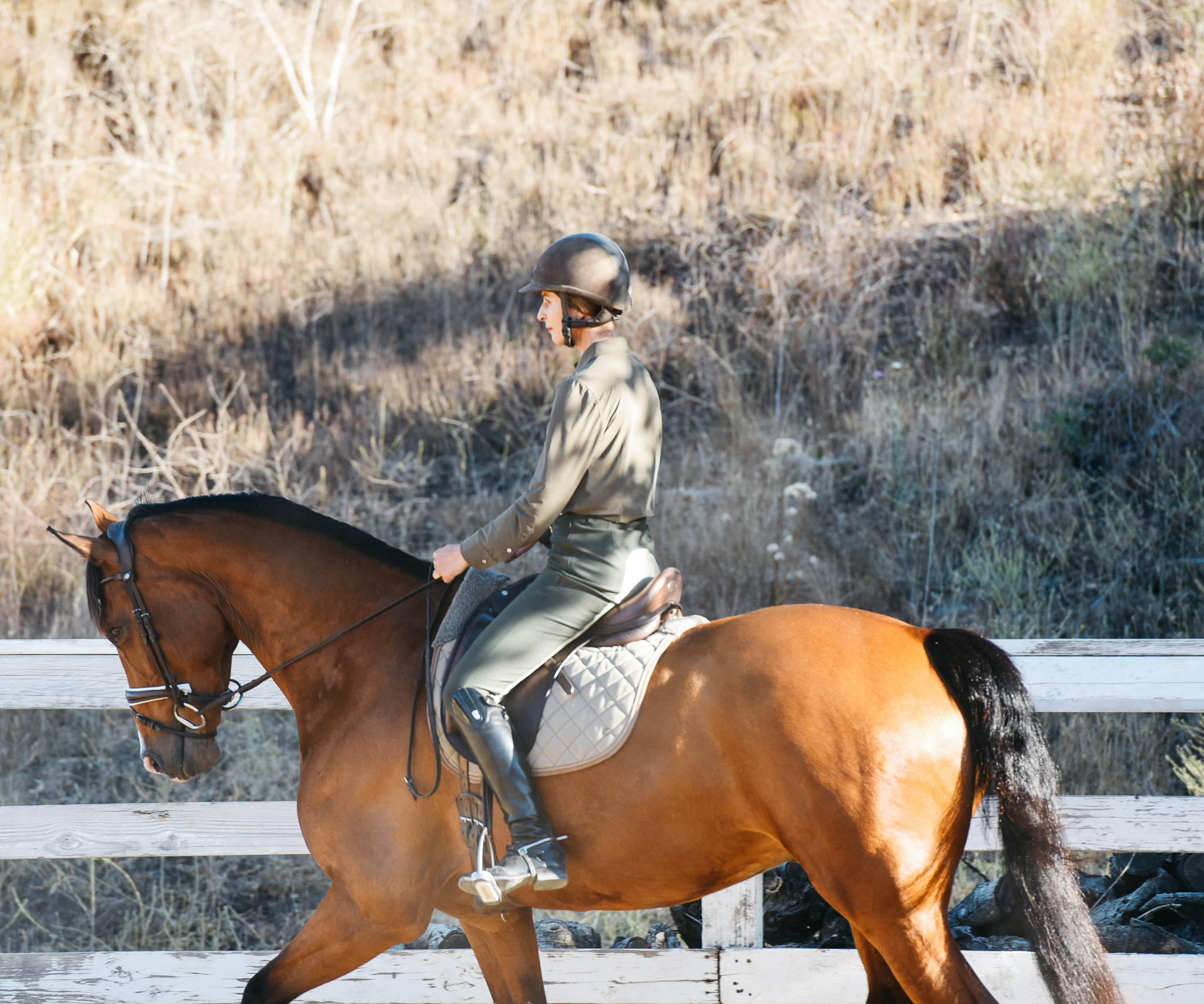 DO YOU HAVE A FAVORITE PIECE OF EQUIPMENT OR TACK THAT YOU FEEL MAKES A DIFFERENCE IN YOUR RIDE AND YOUR HORSE(S)? THIS CAN BE ANYTHING FROM BITS, STIRRUPS, GIRTH, REINS, ETC.
YOU CAN NEVER BEAT A PERFECTLY BALANCED SADDLE. I LOVE MY ANCIENT ANTARES CROSS COUNTRY JUMP SADDLE AND MY EQUIPE DRESSAGE SADDLE. I ALSO THINK FINDING A GREAT RIDING PANT IS IMPERATIVE, ESPECIALLY IF YOU ARE RIDING AND TEACHING ALL DAY. YOU HAVE TO BE COMFORTABLE!
WHAT DO YOU DO WHEN NOT AT THE BARN?
WHEN I AM NOT AT THE BARN? WHEN IS THAT HAHAHA?! I HIKE A LOT AND TRY TO GET IN WHATEVER SWIMMING POOL MIGHT BE AVAILABLE. SPENDING TIME WITH MY FRIENDS IS REALLY IMPORTANT, BUT HARD AS WE ARE ALL SO BUSY, BUT I TRY TO SET ASIDE THAT TIME. I LOVE LIVING IN LA, BUT I HATE BEING SO FAR AWAY FROM MY PARENTS, SO I TRY TO VISIT THEM AS OFTEN AS I CAN.
DO YOU HAVE OTHER ANIMALS BESIDES HORSES?
YES, MY BOYFRIEND AND I HAVE TWO DOGS, DEBBIE AND PICKLES.
FAVORITE SNACK TO GIVE HORSES?
WATERMELON AND CELERY!
FAVORITE TYPE OF WEATHER TO RIDE IN?
A NEW ENGLAND FALL DAY, CRISP AND COOL WITH LOTS OF BEAUTIFUL FOLIAGE.
A 6 AM RIDE IN THE MIDST OF CALIFORNIA'S SUMMER.
A 7PM RIDE ON THE CALIFORNIA COAST.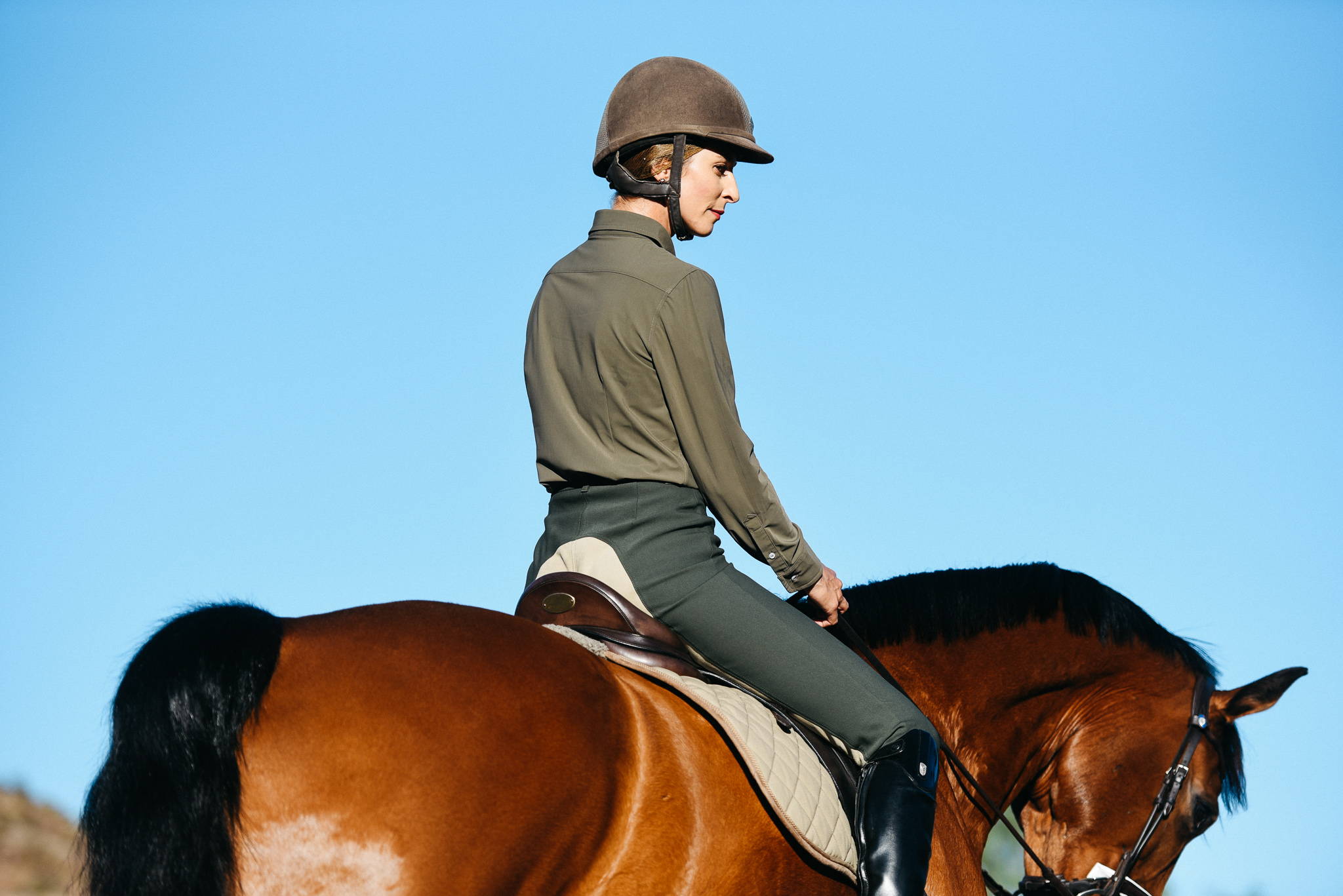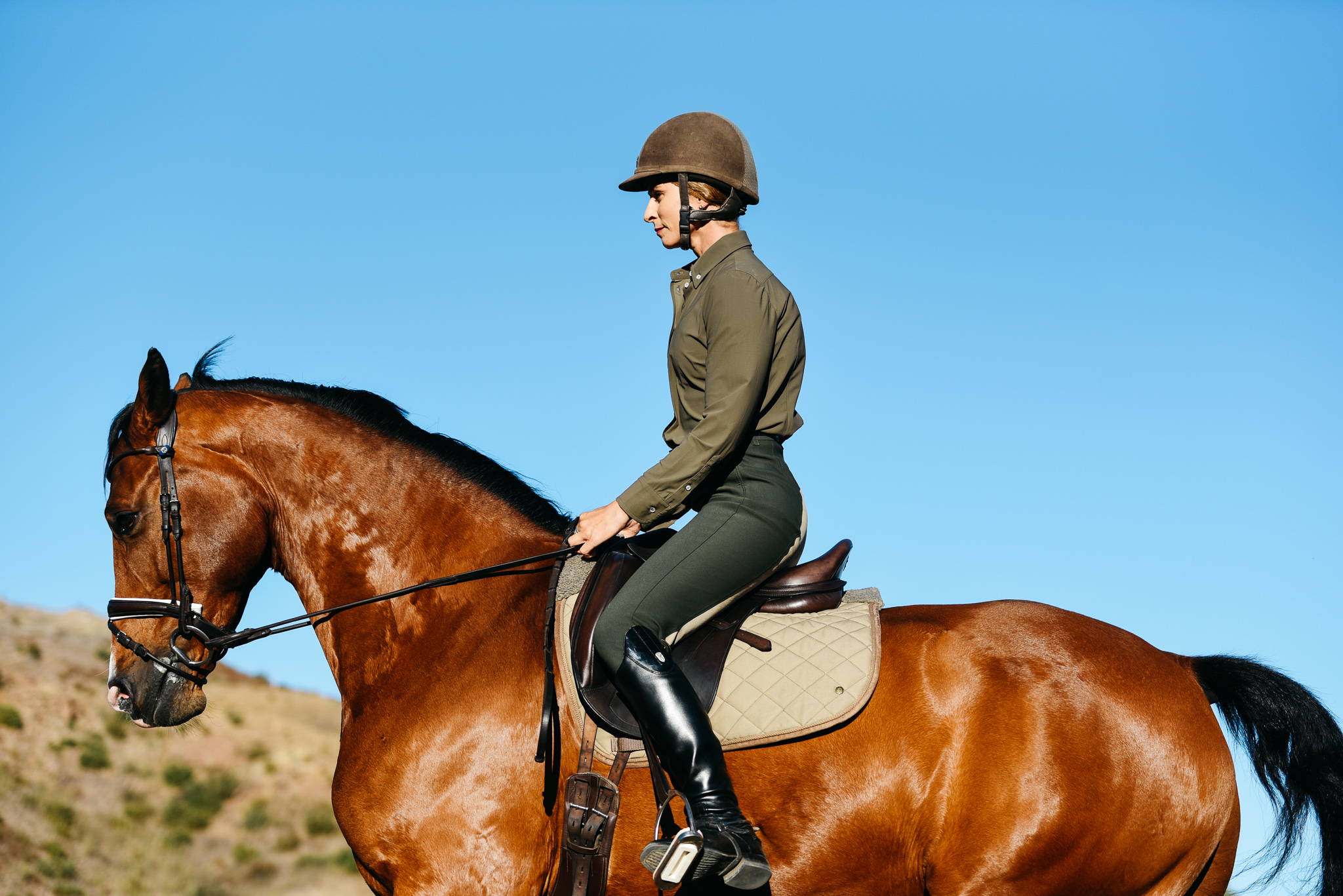 DO YOU HAVE COLORS YOU ALWAYS LOOK FOR WHEN BUYING THINGS FOR YOUR HORSES: PADS, WRAPS, HALTERS, ETC.? OR DO YOU ALWAYS MATCH YOUR BARN COLORS, AND IF SO, WHAT ARE THEY?
I HAVE ALWAYS BEEN A CLASSIC COLOR PALETTE TYPE OF GIRL. I DON'T LIKE BEING TOO FLASHY OR BLINGY BECAUSE I PREFER THE HORSE TO BE THE STAND-OUT, NOT ME! I ALWAYS GO WITH BLACK, BLUE, BROWN, HUNTER GREEN, OR BURGUNDY.

BROWN OR BLACK TACK?
BROWN, BUT IT ALSO DEPENDS ON THE HORSE'S COLOR.
DESCRIBE YOURSELF AS A HORSE: BREED, PERSONALITY, ABILITIES, AND WHAT YOU ENJOY DOING THE MOST.
OH, FUN! I THINK I WOULD A BE A BAY WARMBLOOD/THOROUGHBRED CROSS. I WOULD ENJOY DRESSAGE THE MOST BUT WOULD LOVE TO JUMP TO MIX THINGS UP, AS WELL AS GO ON VERY LONG TRAIL RIDES THROUGH THE FOREST, (OR ON THE BEACH)!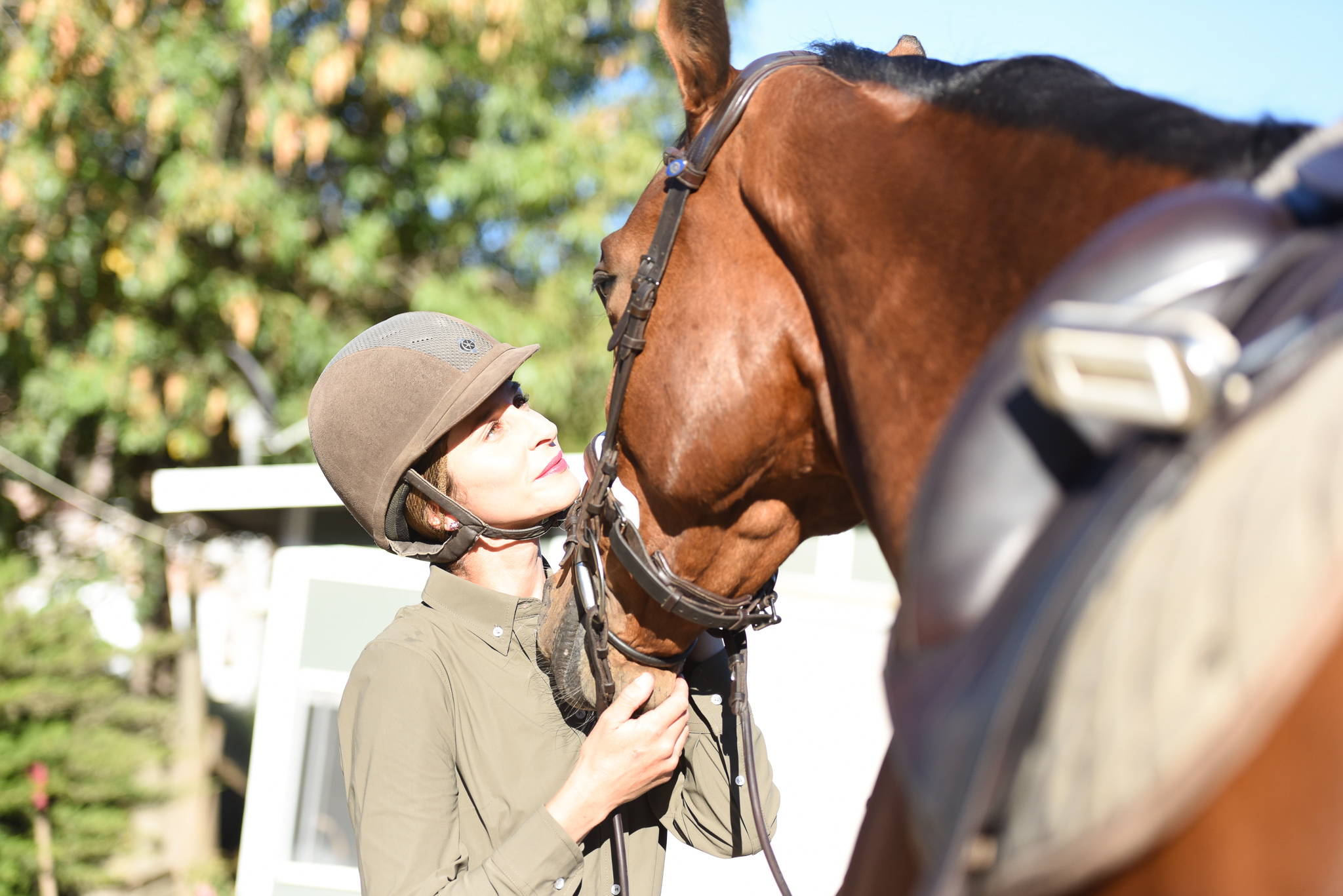 IS THERE SOMEONE WHO YOU FEEL INFLUENCED YOU ON YOUR PATH AS AN EQUESTRIAN AND WHO YOU ARE TODAY?
MY MOM HAS ALWAYS BEEN MY BIGGEST CHEERLEADER, AND SHE IS WHO FIRST INTRODUCED ME TO RIDING. SHE HAS BEEN THERE EVERY STEP OF THE WAY AND NEVER MISSED A RIDING LESSON WHEN I WAS A KID. I THINK BECAUSE I HAD SUCH SOLID SUPPORT FROM HER, SHE REALLY TAUGHT ME THE IMPORTANCE IN SURROUNDING YOURSELF WITH OTHER PEOPLE WHO VALUE YOU AND YOUR DECISIONS. THIS LED ME TO MEETING OTHER SUPER STRONG LADIES (AND A FEW GOOD MEN!) WITH WHOM I HAVE FOUND GREAT CAMARADERIE WITH.